The winners of today's Daily Dumbass Award are twins Lamb & Lynx Gaede, the Nazi Barbie's - no relation to Klaus despite the resemblance. The award also goes to their Neanderthal mother, April (with apologies to the Neanderthals.)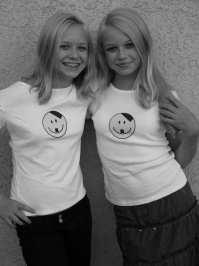 Who are these dear little Frauleins? Well the Olsen Twins they ain't:
Known as "Prussian Blue" — a nod to their German heritage and bright blue eyes — the girls from Bakersfield, Calif., have been performing songs about white nationalism before all-white crowds since they were nine.

"We're proud of being white, we want to keep being white," said Lynx. "We want our people to stay white … we don't want to just be, you know, a big muddle. We just want to preserve our race."

Lynx and Lamb have been nurtured on racist beliefs since birth by their mother April. "They need to have the background to understand why certain things are happening," said April, a stay-at-home mom who no longer lives with the twins' father. "I'm going to give them, give them my opinion just like any, any parent would."

April home-schools the girls, teaching them her own unique perspective on everything from current to historical events. In addition, April's father surrounds the family with symbols of his beliefs — specifically the Nazi swastika. It appears on his belt buckle, on the side of his pick-up truck and he's even registered it as his cattle brand with the Bureau of Livestock Identification.
Yes, the Hitler Youth lives on in form of two little stars of the white supremacist movement. Their "hits" include "Sacrifice" a tribute to Rudolph Hess. Fortunately they aren't having much success outside their own knuckle-dragging community:
Despite the success of Prussian Blue and bands like Max Resist within the White Nationalism movement, most Americans don't accept their racist message.

Like many children across the country, Lamb and Lynx decided to help the victims of Hurricane Katrina — the white ones.

The girls' donations were handed out by a White Nationalist organization who also left a pamphlet promoting their group and beliefs — some of the intended recipients were more than a little displeased.

After a day of trying, the supplies ended up with few takers, dumped at a local shop that sells Confederate memorabilia.

Last month, the girls were scheduled to perform at the local county fair in their hometown. But when some people in the community protested, Prussian Blue was removed from the line-up.
Jesus said we'd always have the poor with us. It looks the stupid are tough to shake too. As I've said before, idiots come in all colors, and apparently age groups. Keep an eye out for any mention of these little aryanistas - if they try to come to your community, make sure they know your opinion of their message.